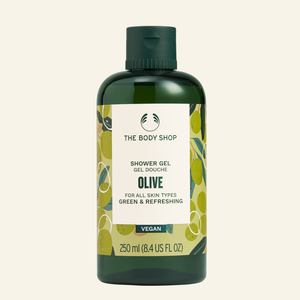 Olive Shower Gel
Regular price
₱445.50
Sale price
₱495.00
Unit price
per
SIZE: 250ml

Get that beautiful body feeling refreshed and squeaky-clean with our foamy Olive Shower Gel.
Now Vegan Society certified and made with 92% ingredients of natural origin including olive oil fruit extract and Community Fair Trade organic aloe vera from Mexico, our hardworking Shower Gel helps leave skin feeling soft. This fresh, green fragrance is balanced with delicate floral notes. Close your eyes, and you could be in a sunny Mediterranean olive grove, surrounded by health-giving fruit.
Suitable for all skin types, it lathers up a treat, transforming from a light gel texture into a rich bubbly foam.
The bottle is recyclable and made from 100% recycled plastic, including our Community Fair Trade recycled plastic collected off the streets of Bengaluru, India. You can recycle the cap too! This means you can love your planet every time you lather up and love your body. 
Features and Benefits
Shower gel
Perfect for all skin types
Leave skin feeling soft, cleansed and refreshed
Green and refreshing
92% ingredients of natural origin
Now certified by The Vegan Society
Dermatologically tested

How to Use
Lather up that beautiful body and rinse.
The Shower Gel for eczema
I used to have really bad eczema, before I discovered The Body Shop shower gels! I have several flavors to match my mood! Our skin truly deserves better products! The whole washroom smells great too!
---