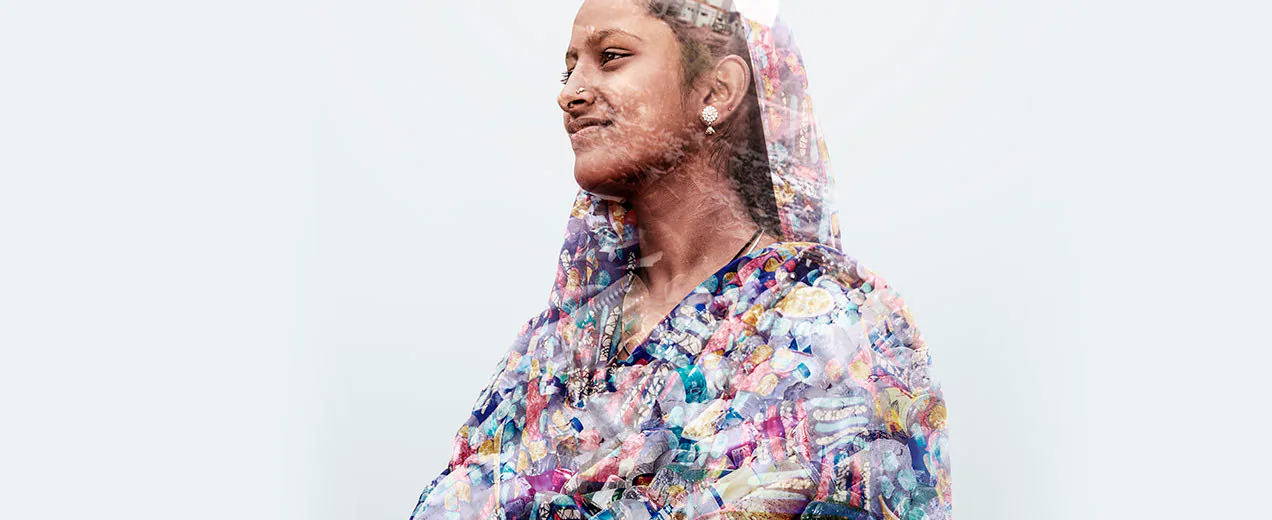 COMMUNITY TRADE RECYCLED PLASTICS
It's hard to relax in times of stress. And it doesn't always come naturally to everyone. Stress can be caused by a number of things – work, finances and situations that are out of your control. Whatever it is that causes you stress, it's important to try take a step back, relax and centre your thoughts. For some, relaxing means meditation and breathing exercises. For others, it's a bubble bath and a little bit of self-care. Whichever way you like to find peace in times of stress, here are some of our top tips on how to relax.
MAKING OF: ARTWORK OF AN INDIAN WASTE PICKER
Sometimes stress can be caused by overthinking. Gather your thoughts and focus your mind by practicing a little meditation and mindfulness. We know meditation isn't for everyone, so if you struggle to keep your mind clear, try body scanning. Body scanning is the process of closing your eyes, and paying attention to each part of your body, bringing awareness to how you feel and paying even closer attention to any aches, pains, tension or general discomfort. It's a simple, fool proof way of checking in on your body while taking your mind away from whatever is causing you stress.Breathing exercises are also a great way to check in with yourself and calm your mind. They require minimal effort and help slow your heart rate and bring your mind and body back down to a relaxed state.
HOW MUCH OF A PROBLEM IS PLASTIC?
It's no secret that plastic pollution has become a global crisis and the planet is drowning in plastic. It affects marine and ocean life, but it affects people too.
In India, almost a third of waste is uncollected. This has given rise to 1.5 million people known as 'waste pickers' who collect this waste in the informal sector. In Bengaluru, we're working with an organisation who proudly call themselves the 'Green Force'. They work with waste pickers who are the unsung heroes who work tirelessly to clean up their city's streets.
'Waste pickers', however, are mostly made up of 'dalits', formally known as 'untouchables', the lowest social group in India's caste system. This means that they are vulnerable to discrimination and poor working conditions.
That's why we want to do more than fight pollution. We want to drive social change and help to empower people too.
Top (from left to right): Shameem, Rihana & Husna
Bottom (from left to right): Mallika Bhaniu & Nagma
HOW DOES PLASTIC WASTE AFFECT PEOPLE?
3 BILLION PEOPLE
Over 3 billion people around the planet are living in countries without waste management – that's almost half of the world's population.
1.5 MILLION WASTE PICKERS


India alone has 1.5 million 'waste pickers' working in the informal sector to clean up their streets and cities.
Pictured left to right: Lilly Dibi & Naseema Bibi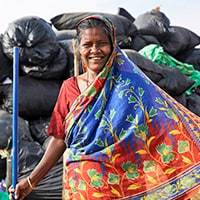 PLASTIC PRICES ARE VOLATILE
In 2015, the price waste pickers received for plastic they collected* dropped by 60%. The price has recently dropped even further.
Pictured above: Mamata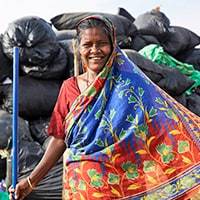 WASTE PICKERS ARE VULNERABLE
'Waste pickers' are vulnerable to harassment by the police, constant displacement and no access to health and financial services. It's time to empower, support and celebrate them.
Pictured above: Mamata
*60% price drop data provided by Plastics For Change, based on their research.
Dolly is a 20-year-old mother. Born into a family of waste pickers, she left school when she was nine to support the family. Her father rents a small piece of land on the outskirts of Bengaluru where he has built tin housing for his family and workers.
Dolly's main role was to sort dry waste material, especially plastic, that can be sold to scrap shops and dealers. From her early waste picking days, Dolly recounts tales of harassment from authorities, which is the norm for waste pickers. Now, she enjoys the relative peace and safety of her new community.
Last year, Dolly stopped work because she became a mother to a daughter, Marufa. Her dream is to become a tailor and give her daughter a brighter future.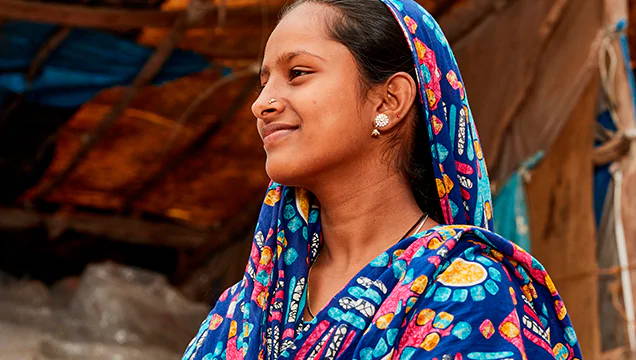 HOW ARE WE GOING TO HELP?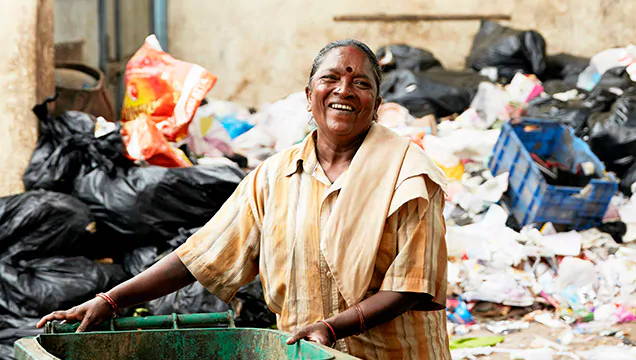 HELP EMPOWER PEOPLE WITH COMMUNITY TRADE RECYCLED PLASTIC
At The Body Shop, we're committed to tackling the plastic crisis differently.
Not using plastic is not the only answer. If used responsibly it can be sustainable, so we need to show love for the plastic that we do use.
An abundant resource of recyclable plastic already exists. That's why we've started using Community Trade recycled plastic from Bengaluru, India.
This not only helps tackle the existing problem, it will also help to empower the waste pickers we support in Bengaluru with access to more sanitary working conditions, a fair price and the respect and recognition they deserve.
Left: Veerama
WHERE DO WE BUY OUR PLASTIC?
MEET OUR COMMUNITY TRADE PARTNERS,
PLASTICS FOR CHANGE
Plastics for Change are a for-profit organisation that partners with local NGOs Hasiru Dala and Hasiru Dala Innovation (HDI) to provide Bengaluru's waste pickers with a stable income and better opportunities.
These partnerships help integrate marginalised waste workers and waste pickers into organised waste management by utilising their expertise. For HDI, their main focus is improving the livelihoods of waste pickers so that they can boost their entrepreneurial skills. They also provide training for other useful skills, including urban gardening.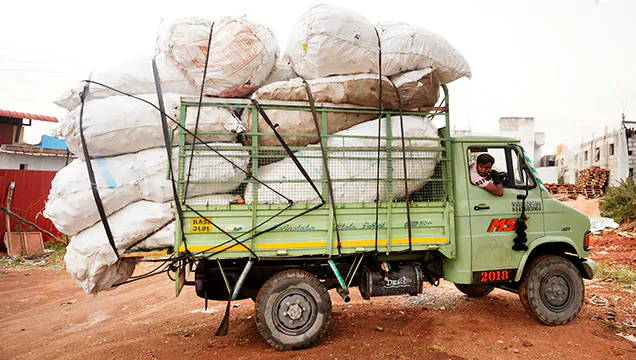 MEET THE PEOPLE WHO MAKE OUR PARTNERSHIP POSSIBLE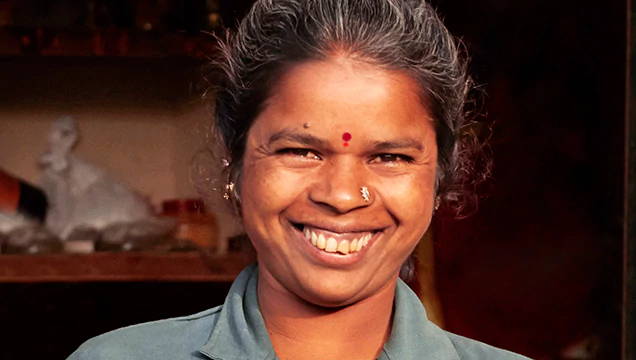 Annamma was a waste picker since she was a child. Now she is a manager of a Dry Waste Collection Centre.
With the help of Plastics for Change and Hasiru Dala, Annamma received managerial training and now employs a number of people, including her husband.
Annamma's daughter is attending a plastic engineering course. Annamma wants her daughter to stay in the waste management business.
MEET OUR COMMUNITY TRADE PARTNERS,
PLASTICS FOR CHANGE
He had a difficult childhood watching his mother struggle when they lost his father, but discovering he could make money from waste picking allowed him to build his future.
With the help of Plastics for Change and Hasiru Dala, Krishna went from waste picking to collecting waste from 24 different locations in the city. Now, he manages a team that provides a monthly waste collection service for 3-star hotels.
Krishna has high ambitions for the future of other waste pickers in Bengaluru.
WHAT WILL WE DO WITH THE RECYCLED PLASTIC WE BUY?
We've started using our Community Trade recycled plastic in our 250ml Shampoo and Conditioner bottles.***
After our plastic is collected and sorted in waste segregation centres, it is cleaned, compressed into bales and transported to Europe where it is converted, rigorously cleaned and sterilised. The resultant resin is tested to food grade standards and is then converted into granules and recycled back into our bottles. In the future, we want to buy even more Community Trade recycled plastic from our partners so we can use it in more of our product packaging and strive to be even more sustainable.
We know we've got a long way to go, but don't worry. This is just the start of our Community Trade partnership and our commitment to tackling the plastic crisis. Who knows what we can achieve together next?
***100% recycled plastic with 15% Community Trade recycled plastic, excluding our bottle caps.
WHAT WILL WE DO WITH THE RECYCLED PLASTIC WE BUY?
HOW DOES YOUR AREA MATCH UP?
We were interested in finding out how much plastic is recycled across the UK to show the positive difference that your recycling efforts are making to the plastic crisis. To find out we've taken some of our beloved UK landmarks and compared their weight to the weight of plastic items recycled regionally during 2017 – 2018, so you can make like for like comparisons with your own eyes and see why plastic recycling is so important.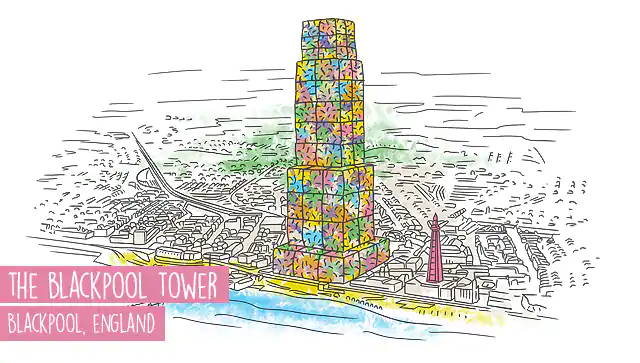 PACKAGING AT THE BODY SHOP
We're changing the way we think about plastic and packaging so we can work towards being a more sustainable brand. Learn about the projects we're working on to make this a reality.