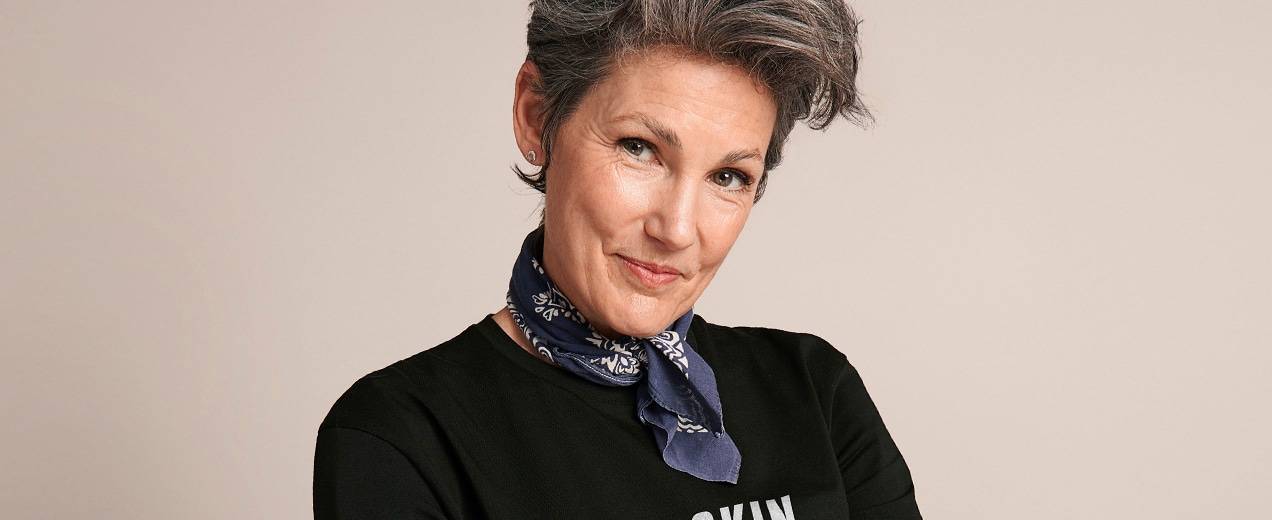 OUR STANCE ON ANTI-AGEING

THAT'S IT. WE'RE PUTTING OUR FOOT DOWN ON 'ANTI-AGEING'. IT'S TIME WE CELEBRATE AGE, NOT FIGHT IT.
Ageing is a natural process; our lines are signs of a happy and full life and it's time we started embracing them. It's time we started celebrating our skin after every birthday and at every decade.

Good skin has no age. And we're on a mission to prove it. We want to start spreading the pro-ageing positivity and put the stigma around ageing to bed. We want you to feel empowered, uplifted and confident in your skin and it all starts with a skincare routine that champions healthy skin, no matter your age.
---
Ageing is a blessing not everyone gets to experience. It's certainly not something we should be scared or ashamed of – it's just life!

Let's be real, there's no skincare product or magic potion that can turn back the clock, but there are products that can make your skin look and feel the best it can be. They can brighten your skin and give it that healthy, happy-looking glow. They can make your skin sing with confidence and leave you feeling proud to be in the skin you're in.

As a pro-ageing brand, we want to champion everybody at every point in their life. Instead of fighting ageing, let's just be thankful for each new day and focus on living it to the fullest. Let's take care of ourselves and age strong knowing we're doing everything we can to make sure our skin is the best it can be.

With this in mind, we've rounded up some of our top tips on how to keep your skin looking and feeling its best, no matter your skin type or skin concerns.
---
WHICH SKINCARE RANGE IS BEST FOR YOU?
Whatever your skin type, whatever your skin concerns, having a consistent routine is important for keeping your skin looking and feeling healthy.
The 'treatment' stage of your skincare regime works hard to tackle specific skin concerns, whether that's in the form of a serum or facial oil. Discover which one can boost your personal routine.
SKIN ROUTINE FOR FINE LINES
WHAT ARE FINE LINES?

Fine lines, wrinkles, laughter lines – whatever you like to call them – are the creases that form on your face, typically around the eyes. (They're the creases we believe should be celebrated as they champion our life experiences.)

These days, many of us are guilty of burning the candle at both ends. Our work-hard-play-hard attitude, late nights and less than perfect diet can start to take its toll on our skin, showing especially around our eyes. But that's not to say the fun stops here. There are things we can do to help revive and brighten our delicate eye area while we still live life to the fullest – hoorah!

WHAT ARE FINE LINES?

Losing skin elasticity is a natural part of ageing – it's how our experience shows. The top layer of your skin starts to thin a little with the lack of elastin, meaning those tiny natural creases and laugh lines appear and stick around, particularly in the thin skin around your eyes (you may notice your concealer and foundation start to 'settle' in lines a bit more).

Things like genetics, environmental factors, smoking and drier skin can speed things along. STILL skipping sun protection? That's not going to help. Arm yourself with a high SPF, drink a ton of water and get at least two more good sleeps every week. Finally, get a skincare routine in place that you'll actually use…
Luckily, that's where our Drops of Youth™ range comes in. Enriched with plant stem cells, Drops of Youth™ is here to help you get fresher, healthier-looking skin with boosted moisture.
SKIN ROUTINE FOR TIRED, DULL SKIN
WHAT IS DULL SKIN?

Dull skin is often when your skin is lacking radiance and colour – you may think it looks flat and grey.

Hanging onto that well-rested glow is vital when it comes to keeping skin looking youthful. Easier said than done, right? Gaining years of experience is amazing (we believe ageing is a privilege that not everyone gets), but stress, work and family life often means well-rested is not an option. We get more tired, and our skin does, too.

WHAT HAPPENS AND WHAT CAN WE DO ABOUT IT

As we get older, cell turnover slows and the topmost layer of our skin can start to appear dull. Skin can become drier, too. Heat and sun exposure from summer holidays, cold weather, air conditioning, even contact with water can make it harder for skin to hang onto its moisture, which makes things look a little lacklustre, with dullness and fine lines more pronounced.

For dull skin that's lost its liveliness, it's time to step up your skincare game to something intensely nourishing. Look for products that focus on adding hydration and boosting skin's moisture levels. Here's how to make skin glow.
Oils of Life™ is our intensely revitalising skincare range infused with three precious seed oils from around the world: black cumin seed oil, camellia seed oil and rosehip seed oil.
SKIN ROUTINE FOR DARK CIRCLES
WHAT ARE DARK CIRCLES?

Dark circles look like deep shadows under the eyes and are typically formed as a result of tiredness, stress or dehydration.

Eyes may be the windows to the soul, but they're the first to show when we're tired, dehydrated, and not as young as we used to be. Dark circles can appear at any age – some of us are blessed with them from birth – but as we age, the loss of collagen causes the eye socket to look deeper and more shadowy. The same goes for puffy eyes. While it can strike at any age, water retention from alcohol and salt makes puffiness more apparent on older eyes.

As for crow's feet – we prefer 'laugh lines' – this comes from losing skin elasticity, which means those expression lines don't smooth out so easily anymore (but since they're a sign of a life full of laughter and expression, we don't mind them too much).

WHAT HAPPENS AND WHAT CAN WE DO ABOUT IT

All this adds up to the thin, delicate skin around our eyes starting to show wear and tear. The most important thing we can do for our eye area is to treat it as gently as possible. Avoid rubbing and tugging at the eye area; when removing eye make-up, using a gentle cleanser that doesn't require rubbing.

If your laugh lines are still in the early stages, remember your water and SPF – and invest in a good pair of sunglasses to help protect the skin around your eyes from the sun (and also stop you squinting!)

It's never too early to start using an eye cream. Start by adding one to your evening skincare routine and remember to apply your eye cream with your ring finger – it's the weakest, so uses the least pressure – and tap a small amount gently around the orbital bone.

Massaging with a rollerball massager can help reduce the appearance of puffiness as the motion boosts blood circulation. To help wake up tired eyes, leave your massager in the fridge for a lovely cooling sensation in the morning
SKINCARE FOR DARK CIRCLES
SKINCARE ROUTINE FOR LOSS OF ELASTICITY AND FIRMNESS
WHAT IS LOSS OF ELASTICITY AND FIRMNESS?

A natural part of ageing, skin can easily lose its firmness and can appear loose and saggy.

For everything we gain as we get older, losing a little firmness and skin elasticity is part of the process. It's collagen that gives skin elasticity and structure, resulting in that plump, youthful bounce. Production of collagen and elastin tails off as we mature, so we start to lose tone – particularly around the cheeks and jawline.

This lack of collagen and elastin means skin starts to lose firmness and volume, resulting in loose skin and a weaker structure. Our experience and knowledge starts to show in the delicate skin around the eyes, and natural folds and creases will start to look deeper.

WHAT HAPPENS AND WHAT CAN WE DO ABOUT IT

The rate of skin ageing depends on lots of things – mostly, our DNA. It will come as no surprise to hear sun damage, smoking and pollution are big players here. Environmental factors can also lead to a build-up of melanin that appears as age spots or sunspots.

So what can we do about it? Firstly, don't stress. Ageing is the nature of being alive. There's no turning back the clock, no fountain of youth to undo the years of wisdom you've earned (and if you could do that, would you really want to?) Choose skincare for the skin you're in, that makes it feel and look the best it can be – just with a little added strength.
SKIN ROUTINE FOR FIRMING AND SHAPING
Mature skin needs skincare that performs. Our high-performing Roots of Strength™ skincare is infused with root extracts and is designed to leave your skin looking more plumped, firmer and denser, as if re-shaped*. This straightforward three-step routine will help improve the appearance of mature skin. Spend an extra few minutes massaging skin as you apply it, to help boost circulation and help products sink in.