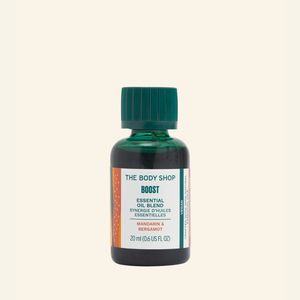 Boost Essential Oil Blend
Regular price
₱1,075.50
Sale price
₱1,195.00
Unit price
per
SIZE: 20ml


Help bring some feel-good vibes to your day with our Boost Essential Oil Blend.
Dab a few drops on your pulse points to help put a spring in your step, radiate good energy and take a moment for yourself to recharge. It also packs a zesty, citrusy and sunny scent that helps you feel uplifted and brightens up your day (even in winter).
This vegan oil is made with 100% ingredients of natural origin, including 100% natural and biodegradable* mandarin and bergamot essential oils and Community Fair Trade organic olive oil from Italy and sweet almond oil.
It also comes in a recyclable** glass bottle, so you send your planet some of those good vibes too.
Take this bottle of sunshine wherever you go. You never know when you might need a little boost.
*Ultimately biodegradable according to the OECD 301 guidelines for carbon related substances.
**Not including the lid and reducer plug. Where local facilities allow.
Features and Benefits
Pulse Point Perfume Oil
Perfect for all skin types
Help take a moment for yourself to recharge
Zesty scent helps brighten up your day
100% ingredients of natural origin
Certified by The Vegan Society
How to Use
Start by cleansing and moisturising with our Boost Uplifting Hair & Body Wash and Boost Whipped Body Cream.
Hold the bottle upside-down for 5-6 seconds to apply a few drops of our oil to your pulse points. You can even add a drop or two to your tub or to a bowl in your shower, so you can breathe in that day-brightening scent.
Enjoy that scent and feel that positive energy.
---